Family Companies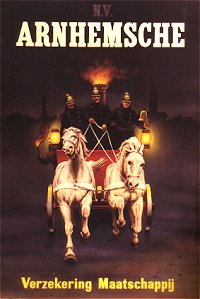 The Arnhemsche Verzekerings Maatschappij
The Arnhemsche Verzekerings Maatschappij has played a significant role in the family until the loss of its independence in 1961. The insurance company started as "Onderlinge Brandwaarborg Maatschappij and was founded in 1809 by Mr. J. Weerts and Mr. N.W. Ardesch primarily to guarantee against fire of buildings in villages and on the country side. Management has always been in the hands of André de la Porte's. In 1825 another insurance company is created to guarantee buildings and furniture in and around cities. This company too has always been managed by André de la Porte's. In 1844 the name of the company was changed in the" Arnhemsche Verzekerings Maatschappij tegen Brandschade".

Directors of the André de la Porte family were successively:



Gilles (1800-1869),



Anthony Engelbert Gzn. (1832-1898 - Orange Branch). ,


Gilles A. E. zn. (1862-1943 - Orange Branch),


Anthony Engelbert (1898-1977 - Orange Branch),


Gilles (1836-1902 - White Branch),


Gilles (1867-1940 - White Branch),


Gilles (1897-1946 - White Branch)



Jozef Leonard (1922 - Blue Branch),


Pieter Cornelis (1933 - Blue Branch)


The pictures of the directors of the Arnhemsche Verzekerings Maatschappij of the orange branch are visible in the upper row, directors of the white branch in the lower row. Jozef Leonard stands to the left and Pieter Cornelis to the right.



The trading company "Merrem & la Porte" started as a commission and expedition trade company in 1845. This company was undone and continued by the company 'Merrem & Compagnie", an association between Friedrich M.Merrem and B.F. Taaks. Starting 1858 Gilles André de la Porte was limited partner of this company which objective it was to be active in the commission and expedition trade.. For this he supplied 25.000 guilders of his own property. His son Pieter Cornelis André de la Porte (1837-1912, blue branch) was employed as a volunteer in the company since 1856 and was parallel educated, to allow him to become a participating associate later on. Merrem & la Porte developed to become a very flourishing enterprise. In 1870 Pieter Cornelis became participating associate, after which the name was changed in "Merrem & la Porte". In 1895 both sons Jozef (1869-1929, blue branch) and Cornelis (1867-1929), blue branch) became co-associates . After the death of their father in 1912 they took over management. Jozef and Cornelis both passed away in 1929. The company was advanced by their sons Pieter Jozef (1897-1958) and Pieter Cornelis (1896-1976).
Due to the economic situation in those days and family circumstances (Pieter Jozef left the company and started his own company in The Hague) "Merrem & la Porte" was transferred into a Limited Liability company . Charles Henri (1898-1966) Pieter Cornelis' brother (1896-1976) later joined the management. Two of his sons Charles Henri (1926) and Cornelis (1925-1993) were the last two members of the family in the Board of Merrem & la Porte. After a merger in the ninety's with "Landré en Glinderman" a merger took place with "Geveke" which was quoted at the stock exchange. Subsequently Merrem & la Porte became part of "Pon Holding".


Merrem & la Porte


Merrem & la Porte in the media