Branch André in The Netherlands
François Marie (born in 1728), a younger brother of Joseph Dominique lived in France and was married to M.F.J. Gille. They had eight children. One of them Louis Marie Norbert (1768-1856) went after his uncle to The Netherlands and also settled in Zutphen. He too had a boarding school there. Whether it was perhaps the same school as his uncle's is unknown. Louis' house was on the corner of the Old Wand and the Lombardsteeg, as it is written in a letter of 17 February 1797 which is in the archives. This house was handed over to him by Anna van Lintelo, widow of Baron F.B.L. van Westerholt. This house was taken down. Louis Marie Norbert married M.B. Hoyer. The family and later their children continued to use the French family name André and did not use their uncle's addition "de la Porte". These André's lived in both Zutphen and Dordrecht. This branch of the family died out in 1844.
Anthony Engelbert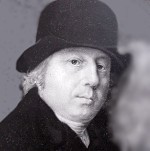 Anthony Engelbert (1767-1805) , son of Joseph Dominique studies in Utrecht and becomes vicar. First on the isle of Walcheren and later in Elst in Gelre. He marries Maria Bussingh. She passes away young , after which he remarries Jacoba van de Wall. They have six children, three daughters and three sons, of which one dies in the year he was born (1802).From documents it appears that Anthony Engelbert dies following a drop in the church of Elst. He is only 38 years of age. The story goes that he "when searching for dove eggs for his pregnant wife" he fell through the attic of the church and died as a result. Anthony Engelbert leaves behind his widow and five children ' in miserable conditions". Two sons , Gilles and Anthonie Engelbert, both produced sons to continue the family. The eldest son (named after Joseph Dominique) died in 1816 without children at the age of 19.
Fatal accident in Elst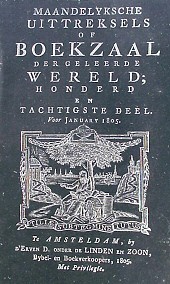 The following text, modernised to improve the ease of reading is taken from the "Maandelijks Uittreksel of Boekzaal der Geleerde Wereld" edited in January 1805.
ELST, 6 March 1805

"This day here was a day of deep sorrow, which story spread quickly all around- our beloved teacher A.E. André de la Porte, was taken away from us by death in the flower of his life, completely unexpectedly and the way was particularly awful ! The reverend went to the church at about eleven thirty in the morning, to verify some things on the attic. Having arrived there he fell through a plank, which was too weak, down on the floor in the church, hurting himself in such a manner that he passed away that same day at three in the afternoon as a result of that serious fall, to great sadness not only of the complete community but most to the left behind widow Miss Jacoba van de Wall, who with her five children (the eldest of eight and the youngest one year old) is in deep mourning . Reverend Mr. M.J. Menso, beloved vicar in Slijck Ewijk has as Visitator, filling in on the 10th of this month his first preaching engagement, in an appropriate intercession paid attention to this remarkable death and more extensively in a funeral oration on the 24th of this month. Our pulled away so early teacher had the age of thirty eight and a half ; was born in Zutphen and prepared on the Latin School for academic lessons. His choice was the profession of teacher, for which he went to the University in Utrecht. Candidate for the ministry he was soon sent out by the Church and the reverend has preached with diligence the Gospel of salvation in five different places: 1.in Vinken, 2. in Hoofdplaat, 3. in Wissekerke, 4. in Oost Kapellen, 5. in Elst . When he was called here he was also called in Hees en Neerbosch in the Scheppende of Nijmegen, which he called off, having administered here now for seven and a half year the Holy Sacrament with praise, a time during which both Oude Tongen and Haren called in vain upon the reverend, which he called off and preferred to stay in Elst. Our late friend and teacher has been married twice: first with Miss Maria Elisabeth Bussingh, who passed away in Oost Kapellen without children Subsequently with Miss mentioned above, now the left behind widow with five children, for whom the normal widow year will be performed by the ring brothers will . Therefore Elst is vacant.. "

See also "Anthony Engelbert (1725-1805) zakt door den vloer"


The family continued by:


Gilles, (1800-1869). Tradesman/insurer



Anthonie Engelbert 1804-1873 (GREEN Branch)
officer of the army
And the sons of the before Mentioned Gilles.



Johannes Hendrikus.(Jan) Judge in Arnhem .



Anthony Engelbert (Toon,1832-1898). (ORANGE Branch).
Insurer



Dirk.Vicar 1834-1900 (RED Branch)



Gilles Insurer.1836-1902 (WHITE Branch)



Pieter Cornelis.1837-1912. (BLUE Branch)
Founder of van Merrem & la Porte